---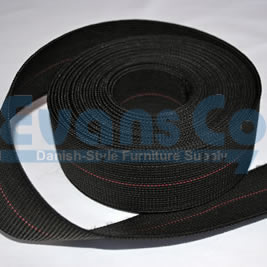 Details:

Poly Webbing is coated in nylon for durability and longevity. It is 2" wide and comes in lengths found in the drop-down menu here. It is slightly stretchier than Premium Webbing, but not as much as a pure rubber strap, so when measuring, only account for up to two inches of stretch.
Is Poly Webbing right for me?
Instructions:

To measure, follow path of old webbing. If you have 45-degree slots, cut webbing to the exact slot-to-slot distance or '" shorter. If you have 90-degree slots, add minimum of 1 inch at each end to attach. Secure with Evans Clips

Patented

, 90-Degree Angle Metal Grips, or if your furniture does not have slots, heavy-duty stapes or nails (do not use furniture tacks as they will pop out with pressure). We do not cut to individual strap sizes but send orders in one piece (see drop-down menu). To make strap template, attach end of roll to chair. Pull taught across to other side of chair frame and, leaving enough room to clip, staple or nail, and cut. Use this piece as template for cutting other webbing pieces.