---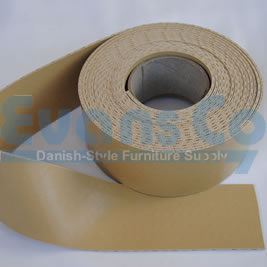 Details:

This authentic 2-inch (50.8mm) width rubber webbing comes directly from the same group who originally manufactured Pirelli webbing in the early 1950s. The company was known as Pirelli GRG Division (General Rubber Goods) in the 1950s, and was created in order to find a commercial outlet for the high quantities of surplus rubber produced in the Pirelli Tire Division. Having undergone a number of company name changes since then, the webbing is still manufactured in the same way in the same small town as it was originally. This is the high quality webbing you will see when reupholstering classic Mid-Century furniture, and the same webbing still used today by quality furniture manufacturers. There are many fakes or replicas on the market today, but you can buy the real thing with confidence at Evans Co.
Premium Upholsterer's Webbing is rubber webbing that is inlaid with fine cloth mesh for durability and longevity. It is 2" wide and comes in lengths found in the drop-down menu here. It only stretches a very small amount, so when measuring, only account for up to an inch of stretch.

Is Premium Upholsterer's Webbing right for me?
Instructions:

To measure, follow path of old webbing. If you have 45-degree slots, cut webbing to the exact slot-to-slot distance or ˝" shorter. If you have 90-degree slots, add minimum of 1 inch at each end to attach. Secure with Evans Clips

Patented

, 90-Degree Angle Metal Grips, or if your furniture does not have slots, heavy-duty stapes or nails (do not use furniture tacks as they will pop out with pressure). We do not cut to individual strap sizes but send orders in one piece (see drop-down menu above). To make strap template, attach end of roll to chair. Pull taught across to other side of chair frame and, leaving enough room to clip, staple or nail, mark where to cut. Use this piece as template for cutting other webbing pieces.

To substitute webbing for Loop Straps: Measure the opening and add 10 inches to each length. Cut and remove old straps. Cut doweling into sections for each individual piece of webbing. Cut new webbing into required lengths including the extra 10 inches. Insert webbing through the slot underneath the side of the platform, pull through 5 inches, place the cut dowel against the slot opening, and pull the end of webbing up through the slot so it is underneath the long length of webbing. Then repeat on the opposite side.